The Radical Accessibility Audit Project (RAAP) Montreal

RAAP Montreal is a collaboration between Accessibilize Montreal and CURE.
It's an initiative to document the accessibility of urban spaces in the hope of "collectively creating useful, accurate, broad-based and up-to-date accessibility information about the physical environment so we can make informed choices about what events and spaces we participate in and support."  (RAMP, 2013)
The idea is to crowdsource comprehensive information on the accessibility of different venues around Montréal. That information can then be posted online and used in different ways:
Event organizers are encouraged to access the information and choose to organize events in spaces that are accessible to everyone.
Organizers can link to detailed accessibility information when promoting events so people with different access needs know if they will be able to attend or if there will be barriers that make attending the event difficult/impossible for them.
People in general can consult this map to get useful info on if or how they can access different cafés, stores, event spaces, etc…
We as a community can choose to support spaces that prioritize accessibility and work to make other spaces more accessible.
RAAP is rooted in the radical access model of disability.  This approach to disability means acknowledging systemic barriers that exclude people with certain kinds of minds or bodies, and working to ensure not only the presence of those who have been left out, but also their comfort, participation and leadership (click here to read more).
Anyone can download the audit template below, grab a friend and a tape measure, head out to an event space, café, bar or other venue and collect info on how accessible it is.
FAQ – Grab a friend and audit a space!
How do I perform an audit and what tools will I need?
First, pick a location. It's helpful to check out the RAAP map of venues that have already been audited to make sure you're not doubling up.  We've also made a map of suggested locations that need to be audited – you can choose one of our suggestions or pick your own.
Next, you'll need the RAAP audit template.  You can download it as a PDF and print it out, or fill it in on your phone or tablet using the online form. You'll also need a tape measure.
Then, head to your chosen venue and start auditing! It may be helpful to speak with someone working there to let them know what you're doing so they don't get confused when you start measuring things.  If the owners of the space seem helpful, you can also get their contact info and have us send them a copy of the completed audit once you're finished! That way we can encourage them to put the accessibility info on their own website too.
Once the audit is completed, submit the form online, scan and e-mail a copy to contact(at)curemontreal(dot)org, or drop the physical form by the CURE offices at 1500 de Maisonneuve Ouest, suit #204.
Detailed accessibility info about our office can be found here.
How is RAAP different from other, similar projects
RAAP is inspired by the Radical Access Mapping Project.  RAAP seeks to collect accessibility information that is as detailed and comprehensive as possible. This means much more than whether a location has a wheelchair ramp (though this is important!).
We hope to support and complement other projects that work to collect accessibility information about public spaces (and to accessibilize those spaces!). To view two such projects, check out AXS map and megaphone.net.
If you know of a complementary project that we may not be aware of, or feel there is an access issue that our audit does not address, please let us know by contacting contact(at)curemontreal(dot)org.

What kind of information is collected during an audit?
The RAAP audit template collects a wide variety of accessibility information.  Examples include: is there a wheelchair ramp; how wide is the doorway; are the washrooms gender neutral; is there a changing table; is there a public phone available; what kind of lighting is in the space; and much more…
The person performing the audit is also asked to record the venue's contact information and, if it is an event space, to take down booking information.  One of our goals is to make it as easy as possible for event organizers to choose accessible venues and to publicize accessibility information about their events. 
Contact raap.montreal(at)gmail(dot)com for more information.
Map of Completed Audits (in progress…)
Click on the icons for links to the completed audits. Right now there is only one location up but we have more completed audits that will be up soon!
Suggested Locations for Future Audits
RAAP Audit Template (PDF)
*Online form coming soon & version en français à venir!
More Resources
Accessibilize Montreal! Facebook Page
Challenging mainstream perceptions of disability through direct action. Speaking out against transit and systemic discrimination. Access for all!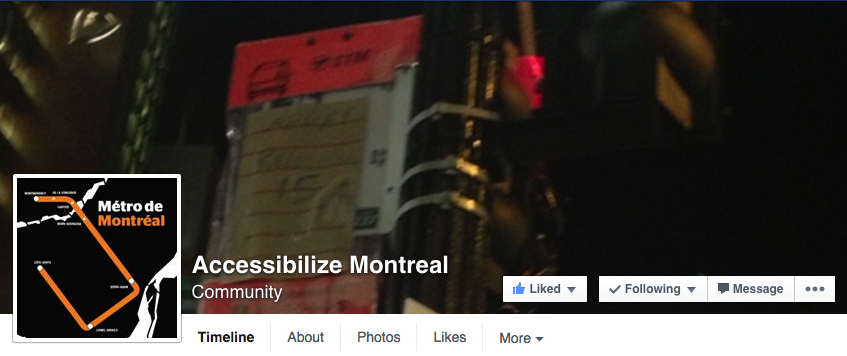 The Radical Access Mapping Project (RAMP)
A Vancouver-based initiative providing the inspiration for RAAP Montreal – check out their accessibility audit template and FAQ.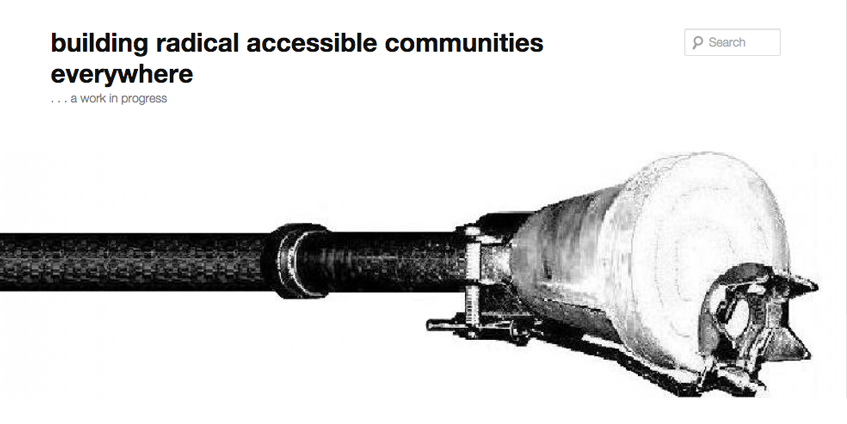 Want to work on the Radical Accessibility Audit Project for credit?
RAAP is one of the CURE projects in our database.  You can collaborate with CURE and Accessibilize Montreal for class credit. Check out the full project for more info and don't hesitate to contact CURE if you have questions.